A special emergency features ensures that it is easy to exit the vehicle simple by pushing at the top of the ramp.
Standard maximum load is 400 Kg. But with a extra set of supporting legs it is possible to extend the capacity to striking 600 Kg.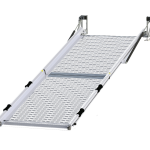 Aluminium wheelchair ramp
Contact
AutoProducts are always ready to assist you!
We are incredibly responsive to your requests and value your questions, so do not hesitate to get in touch.