A slim, light and very durable electrical step
AXS FL is a serie of electrical cassette steps for the front or at the side door. The flat design makes it suitable for installation in almost any type of vehicle.
The engineering and continued development of this step has made it one of the most successful and popular stages on the market. It is durable and the slimline design makes it fit todays modern mini bus interior.
The AXS FL step has a closed design to keep dirt away from critical moving parts. It is supplied with wiring loom, integrated electronics, warning light for the driver, buzzer, magnetic door switch and universal mounting brackets. As an option, it can be retrofitted with a LED strip at the front part of the step surface.
Specifications:
This step is available in 600 mm, 900 mm eller 1000 mm width.
The weight of the step is:
25 kg / 600 mm
28 kg / 900 mm
31 kg / 1000 mm
Maxiumum loading capacity is 200 kg for all three types of the step
Step surface: Anti-slip aluminium R10 / R11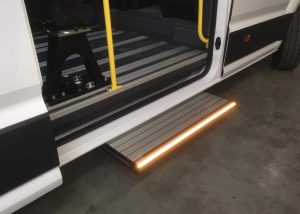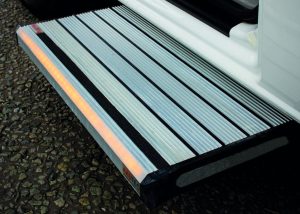 Contact
AutoProducts are always ready to assist you!
We are incredibly responsive to your requests and value your questions, so do not hesitate to get in touch.