With an electrical step you will have all the benefits of the fixed step - as well as a higher degree of flexibility
The AXS FL series has an R10/R11 friction approval which ensures a solid foothold for passengers entering or exiting the vehicle. It is supplied with wiring loom, integrated electronics, warning light for the driver, buzzer, magnetic door switch and universal mounting brackets. As an option, it can be retrofitted with a LED Strip at the front part of the step surface.
An electrical step will give you a wider tread compared to the fixed step, but when the sliding door is closed, the step will be hidden underneath the vehicle. When the sliding door is being opened, the step will automatically follow the opening of the door – easy and elegant.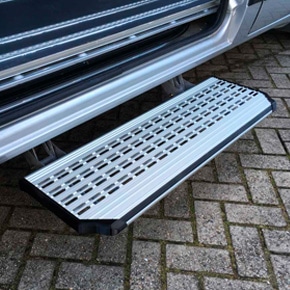 Versa SL:
A stable and safe electrical step.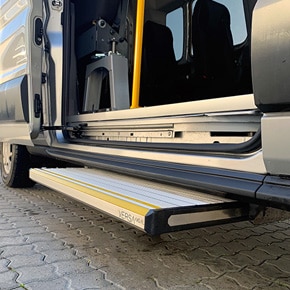 AXS FL:
A slim, modern and solid electrical step.
Contact
AutoProducts are always ready to assist you!
We are incredibly responsive to your requests and value your questions, so do not hesitate to get in touch.